Customer Retention: 10 Surefire Ways to Keep Customers Coming Back
The best asset that your business has is not your newest product or the latest marketing campaign; it's actually your existing customers. In reality, they are more likely to buy from you again than anyone else!
As such, customer retention is more important than anything. How then can you make sure your clients turn into repeat customers? Here are some ways.
As a business, you've probably spent a significant amount of time thinking of ways to attract new customers. While doing so is undoubtedly an important part of marketing, it ignores one of the most profitable customers segments available today – your repeat customers. But how do you make sure they keep coming back?
By utilizing smart marketing techniques, of course! In this article, we will discuss 10 ways to help ensure that the customers you already have continue buying from you for years to come.
This article will discuss:
Why Should You Try to Get Customers Back to Your Store?
How to Keep Customers Interested in Your Store
Improve Your Customer Relationship
Understand Customer Motivation
When you think of your business, what's the first thing that comes to mind? Chances are, it's something about the products or services you offer. But there is another part of your company that needs just as much attention – customer retention.
Keeping customers coming back and buying from you, again and again, will not only improve your bottom line, but it will also make sure they recommend both yourself and your store to their friends and family members.
Why Should You Try to Get Customers Back to Your Store?
---
Your Repeat Customers are ones that have bought from your store previously and return to your website to buy from you again.
These are your most valuable clients. They are the ones that help increase your Customer Lifetime Value. Another big advantage they offer is marketing value – customer retention is significantly cheaper than customer acquisition.
In fact, some estimates put the cost of acquisition as being anywhere from 5 to 25 times higher than that of retention!
Additionally, return customers are more profitable. One study noted that even a 5% increase in customer retention can result in a 25% increase in profits. This increase is because of several reasons, including:
Customer-Company Relationship. Once your customer feels they have a relationship with your business, they are more likely to choose you over competitors. They have faith in your abilities, and this faith can often win out over any pricing advantages competing businesses may have.
Word of Mouth Advertisement. Because repeat customers believe in your business, brand, and product, they are more likely to recommend you to friends and family than a new customer would be. People are likely to take recommendations from trusted loved ones, and this can drive up revenue and customer acquisition without requiring you to spend on marketing.
How to Keep Customers Interested in Your Store
---
That said, the challenge is – of course – figuring out a way to encourage repeat customers. There are several strategies you can consider, and your overall marketing strategy should ideally include a mixture of these options.
1. Reward them for being repeat customers
As humans, we like to be rewarded.
That's why we treat ourselves to ice cream after a long day at work or schedule vacations at the end of important exams. This concept also applies to shoppers. Among the best ways to ensure customers return to your store is to incentivize them to do so.
There are multiple types of rewards you can offer, classified among the following:
Discount codes or coupons
Coupons and discount codes are promotional offers that can be redeemed by a customer to receive a discount or other incentive for a product or service.
A coupon is usually a piece of paper that is electronically printed but can also be a digital file where you can use it at checkout. A discount code, on the other hand, is an alphanumeric code that you enter during checkout to receive your discount.
The discount you offer doesn't have to be high – it just has to be enough the customers feel that they are getting something out of their purchase on your site.
Additionally, you can also choose to only provide special offers on a few products.
The more they come back and buy from you, the more they get rewarded. One of the best examples of stores that use loyalty rewards to convince their customers to come back is Starbucks.
Starbucks gives stickers and stars for every product purchase. A certain number of stickers gives customers a reward of their own choice.
This style of giving out rewards is entertaining as it is encouraging.
You can provide customers with raffle tickets for:
every purchase they make
a minimum purchase
purchase of specific products.
The draw should be about something exciting. You might think that giving away your own products for the raffle would be something exciting for your customers, but it may not be. So it would be best to offer something that everyone else would feel excited about.
Some examples of exciting stuff to give away would be:
a trip for two to Hawaii
tickets to Taylor Swift's concert
a thousand dollar cash prize
2. Make it Interesting or Exciting for Them
Encourage them to get back to your store to do something exciting. Instead of saying they should go back to your to make a purchase, why don't you encourage them to go back for something else?
Of course, the goal is to encourage them to buy from you, but they will only do so if they frequent your website for something fun. Online window shopping is not that entertaining that you'll get back to an online store often just to look at products, which means you have to provide something else, like a game or a unique feature.
These are called Interactive Retail.
Here are some eCommerce websites that successfully bring customers back over and over because of their interactive features:
Maybelline Virtual Try-On
More and more beauty and cosmetics brands and utilizing virtual try-on on their websites to encourage customers to buy without having to leave the house. In the past, women go to malls to test samples of makeup, but the pandemic caused many to stay at home to avoid crowds.
Being able to virtually try some makeup products encourages users to visit the website, try a few shades, and eventually make a purchase.
Shopee is a Singapore-based eCommerce company that has been dominating the eCommerce market in Asia. They have a feature called Shopee Games where users are encouraged to play games on the platform.
Aside from the entertainment value, users are given rewards for finishing a specific level or reaching a specific score. Not only are the games entertaining; they are rewarding, too!
The rewards are secondary in nature. The main point of the games is to keep customers coming back and engaging with the store. This way, the recall value is high.
You should also make it fun by allowing them to involve other people in these retail experiences. You can add an option to share their achievement, such as "post your highest score on Facebook".
If they share what they did, others can be encouraged to check your website, too. This increases the chance of getting more visitors back into your site as well!
3. Keep in Touch Regularly
Out of sight means out of mind.
If you don't get in touch with your customers regularly, chances are they will forget all about you. And once you do get in touch with them, it will either take them some time to remember who you are, or will ignore you completely.
Don't let this happen by frequently reminding them of your existence.
Keep in touch with them by sending out newsletters. It's a great way to get your brand name back in front of their eyes and re-introduce yourself as the store they keep coming back for more!
You can send these newsletters either through email or SMS (text messages). Just make sure you give them something useful and relevant to read, like tips on how to use your product better or an upcoming sale that will only be available during a certain period of time. Customers love deals so don't forget about it!
SMS messaging is especially effective nowadays since mobile phones are always within reach (and close enough) when someone is traveling around town. You can even set up location-based marketing campaigns which aim to reach people who are near a certain location.
Sending out notifications once a week is ideal. At the same time, make sure the information in the notifications is relevant and timely.
It is vital that you send out regular newsletters. However, there may come a time when you run out of things to say. Don't fret; there are other ways to engage your customers without sounding like you are just sending them a message out of routine.
If you are not running out of content to fill your email or SMS messages, here are some topics you can utilize:
Announcement of a new product line or new product features
You don't even have to encourage them to buy. You can simply say that you are excited to share this news with them.
Request for Product Review
Let them know that their feedback is valuable to you by requesting a review. They can even rate their experience in purchasing from your store, etc. Aside from giving you the additional benefit of social proofing and better customer service, your brand will not be forgotten that easily.
Special offers or VIP offers
If you have already segmented your customer base, then you will have an idea of the kind of products or services a specific group of customers will engage with. You can message each group special offers based on their segment.
This is one of the most common contents of newsletters. But don't overdo it. Saying you have a sale regularly will end up convincing your customers that you are just using the "sale" as a ruse.
Not only are blog posts good for SEO, but they are also good in maintaining customer interest.
Festive or Seasonal greetings
List out all possible events and celebrations so that you can send a message that's appropriate for the season. You can even tailor your marketing strategies according to the upcoming events. For example, Father's Day occurs in June, so send a message greeting fathers or offer non-fathers a way to send a gift to their Dads.
Unique notifications that are tailored to your business
While the above is for every store niche, this one is meant for the specific niche you are in. For example, if you run a business selling sweets, you can send out notifications on July 7th to wish them a Happy World Chocolate Day.
4. Be Personal in Your Approach
If you don't remember who they are, why should they remember you?
Make your customers feel important by personalizing each message you send them. Rather than a generic message that caters to all, customize what you send with the help of the following:
If you have access to the email addresses of your customers, use it! Capitalize on this opportunity by addressing them with their name right in the subject line so they know exactly who is sending this message and for what purpose. This will show that you care about each person instead of just mailing out a generic newsletter every now and then which most people won't bother opening up, let alone reading through.
Base your message on their previous purchases
If they recently bought something in your store, use this to your advantage by sending them a personalized message that will give them the impression you are thinking of them. They might even be curious enough to find out what it is about!
The best part? This option costs nothing since all you need is the information on their previous purchases which can easily be retrieved through shopping cart data or transaction details. How convenient!
What kind of messages would work for this tactic? Here are some ideas: "How did you like the product?", "What do think about our new product line?", or simply anything related to recent sales (if there was any).
Send messages based on customer segments
People will only respond to messages that they have some sort of connection with, or whose content they have shown interest in the past. Since you already know what they like, this shouldn't be a problem.
For example, if your customers typically buy items that cost $60 and above (or any other variable factor), send them an email about the exclusive discounts for high-end products only. If you have a list of loyal customers who always make their purchases through online payment systems such as PayPal or Amazon Payments, give them a heads up on your latest deals using these services exclusively! Personalize it even more by mentioning how much each item costs in their preferred payment system so they can easily compare prices with ease.
No one likes being bombarded by sales pitches every now and then because all these do is create a negative impression on the recipient. Plus, it's just boring to read about sales all day long!
Lighten up your conversation by sharing a personal joke or two once in a while. This will not only provide you with entertainment but also give them something interesting to look forward to which can boost their interest in whatever product/service you are selling even more so than any professional speech could ever do!
What kind of jokes would work?
Anything funny that is related to your company's products and services will be perfect for this purpose. Just make sure they aren't offensive though because no one wants an angry customer who thinks he was mocked (even if it wasn't intended).
Also, try keeping them at around 15 words or less since long jokes will only bore the recipient and make them feel like you're wasting their time. This is also important if you are using SMS Messaging since texts are limited to 160 characters per message, which is why you should remember to shorten your links, too. You can also send jokes in the form of images, memes, or GIFs.
Send messages at different times of the day
Everyone is busy doing something or another throughout the day, so if your message arrives when they are in between tasks (like during a commute to work), it will definitely catch their attention. On average, messages sent around noon tend to get more replies than those that arrive earlier or later.
However, this doesn't hold true every single time! Use this tactic as an experiment since there might be other factors involved such as location and device preferences which can affect response rates even further due to personal mobile usage habits.
Take advantage of the news
This tactic is pretty straightforward: just follow what's in trend to get people talking about your business more often than they normally would, especially if it is something that you can easily tie in with one of your products or services (consumer-related content always gets more views).
Whether it's a trending topic on social media like Twitter or Facebook, an article published by renowned blogs such as Huffington Post, Forbes etc., another company producing viral advertisements for their own product/services, there are plenty of opportunities out there waiting to be taken up immediately!
There are a whole lot more ways to customize your messages to match your customers, which you can learn from our article on the Art of Personalization.
5. Improve Your Relationship with Your Customers
People buy from businesses they like.
No matter how great your products are, how affordable your prices may be compared to others, or how exciting the deals you offer may be, they won't matter if your customer hates you.
So first off, improve your customer relationship by taking note of the following:
Be polite but natural on all your communications with customers, whether it is through email, SMS or a phone call. Doing so will allow customers to feel more at ease since they think they are having an actual conversation instead of reading formal content that sounds too stiff for their liking.
Remember what they like and don't forget to highlight this whenever you send them information about new products or sales.
If they have opted in to SMS marketing campaigns, let them know that their mobile numbers are kept safe and never shared without permission (and keep true to this!).
Utilize conversational or two-way text messaging. This allows customers to interact with your message. You can either set up bot replies or respond to their inquiries yourself.
Send a birthday treat or greeting. One great example of Starbucks (again!) who gives their loyal customers a free slice of cake on their birthdays.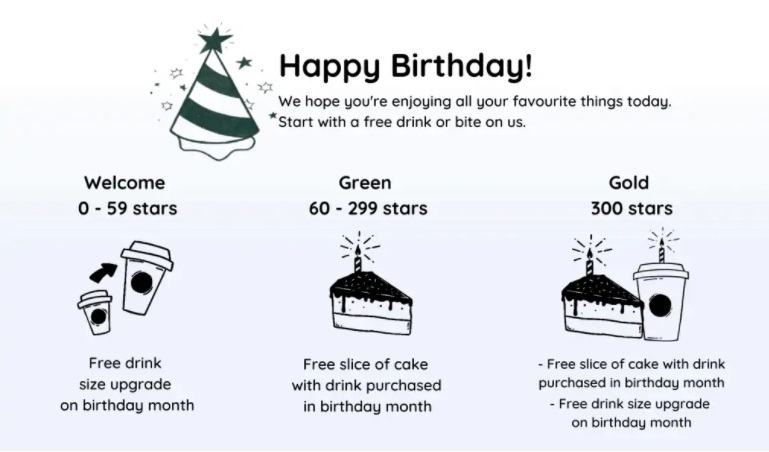 (Image from Starbucks Singapore)
6. Engage in Social Media
Remember that humans are social animals.
Social media can be a huge driver of traffic to both online and brick-and-mortar stores. However, you need to handle your accounts correctly in order for them to be effective.
An effective social media strategy doesn't only mean posting and sharing; it also means interacting with your clients. You should also keep in mind that some social media platforms are better for certain industries than others. For instance, Instagram is great for fashion and lifestyle products while Pinterest is suitable for retail stores specializing in DIY projects, etc.
So to build up your loyal following of customers online:
Post regularly but don't ever overdo it! This ties back the need not to bombard your audience with messages.
Post visually appealing content that is relevant to your brand, i.e., lifestyle images or videos if you are a fashion store and DIY projects for home improvement stores etc. Adding photos with quotes can be effective as well since these visuals remain in their newsfeeds for a long time.
Share stories instead of just plain old posts which basically state something out loud without giving any insight into what makes it interesting first hand (cue: clickbait)
Respond to your customers' comments on your posts, especially if they're asking a question. This lets them know that you are there for them, even when they're not shopping. Doing so also gives your customers the impression that there is a real person behind the company, which somehow makes people feel uncomfortable.
Participate in relevant trending hashtags to reach out to new audiences and gain more exposure.
When it comes to social media marketing, timing is key! Make sure your posts go up at a time of day which will have the greatest chance of being seen by your target audience. You can determine this by looking into the Analytics section of your social media page.
7. Act on Feedback
As mentioned above, a key to ensuring your customers return to your website is by making them feel like they are valued.
One way to do this is to take their feedback into account.
There are several channels you can use to collect customer feedback, including feedback forms, product reviews, customer satisfaction surveys, and more. Additionally, many customers also post their feedback to their social media channels, so keep an eye out to see if your business has been tagged in any such reviews.
Once you know what your customers are thinking, you can then implement that information as necessary. For example, if customers are having trouble with the website while they are checking out, do a system diagnostics and see if you can improve your website quality and speed.
Additionally, keep an eye out for indirect feedback.
Some customers give products high ratings but include information in the written portion of the review that can help guide you on how you can improve your offerings.
For example, a customer may give a product they bought a 5-star review. However, in the written section, they may mention that while the product was great, the packaging was damaged when it reached their home.
If you only look at the absolute rating of the product, you may miss this feedback, choosing instead to focus on reviews and products with less impressive ratings. By looking at both the detailed and qualitative feedback as well as the statistical and quantitative feedback, you ensure that you get all the information needed.
You can also engage with your customers by replying to their reviews and feedback. Letting them know that you heard them and that you are doing what you can to improve can make them feel valued, and would therefore increase their trust in you.
8. Understand Your Customers' Motivation
In order to ensure your customers keep coming back to your store, you need to first understand what it is that convinced them to shop from you in the first place.
What is your Unique Selling Point that motivated your customers to buy?
Sometimes, it may not even be the one you thought. Once you identify your Unique Selling Point (USP), you can then refine the advantage this factor gives you to ensure your website stays enticing for your customers.
Additionally, being conscious of the advantage you have over your customers reduces the likelihood that you'll unknowingly make a strategy change in the future that will remove this advantage.
For example, if competitive pricing is what drew your customers to your store, you'll need to ensure that the price of each item stays affordable. If you do not recognize this and believe instead that customers are interested in your range of products, you may unknowingly raise your prices, resulting in a loss of long-time customers.
This isn't to say you cannot change your strategies – you just need to do so carefully, keeping the customers in mind.
Let's consider the situation in which your USP is the price of your products. If you find that your profit margins have shrunk due to issues with suppliers, you will have no choice but to increase these prices. At the same time, you'll need to mitigate the risk of losing return customers.
In order to do so, you can consider being upfront and transparent with customers about the reason you are raising prices. This way, your clients will not be blindsided the next time they visit your website and will understand that you are always keeping their needs and opinions in mind when making business decisions.
9. Be Socially Responsible
Today, more and more people are concerned not only with the products and services they buy but also with the ways in which the money they spend affects the world around them. Research shows that 66% of people are more willing to spend money on socially conscious and sustainable brands, a number that rises to 81% among millennials.
Customers are now looking into companies' stand on socially relevant issues.
The way in which you approach Corporate Social Responsibility (CSR) will depend on your business and your supply chain. For example, if you are a fashion retailer that only sells local products, you can highlight your support of local brands and the lower carbon footprint than buying local has versus buying imported products.
On the other hand, if you are an online medical store, you can consider investing in charitable initiatives related to your business, including ones supporting low-income people with medical concerns.
Furthermore, the scope of the CSR you commit to will depend on the size of your business. People expect bigger brands and businesses to spend more time – and money – on CSR initiatives because they believe that these companies can afford to do so. Additionally, if you're a local business based in only a few cities, committing to CSR projects in these cities will earn you more goodwill than investing in international projects will.
10. Be Accessible
As mentioned above, listening to customer feedback is important for ensuring they return to shop with you in the future. However, in order for customers to be able to give you this feedback, they first need to be able to contact you.
Make it easy and straightforward for customers to contact you.
Ensure your contact details are at the front and center so that they don't have to scroll through long emails or websites before they find this information.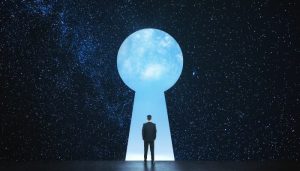 As much as possible, make it evident that your contact channels are connected to your business. This means ensuring your email address includes your business name, and the usernames for your social media accounts also include your business name as far as possible.
If there are other companies with the same (or a similar) name as you, find a way to distinguish your brand from theirs. This ensures that your customers don't accidentally find themselves on a social media page belonging to a business in another industry (and so that you don't find yourself deluged with the other business's customers).
Once customers get in touch with you – whether by email, social media, or some other channel – make sure to respond to their messages promptly. This means responding to social media comments as well as direct messages, emails, and texts, and it also means returning customer calls if they happened to go to voicemail before being answered. Responding on time makes customers feel that their voice matters and their opinion is being heard and makes them have more trust in your business.
At the end of the day, it's important to remember that customers not only want quality products they also want to feel valued and feel as though their voice is being heard. By ensuring that your marketing strategy allows for both of these requirements, you'll find that the first-time customers you make will become return visitors in no time.
Repeat customers are the lifeblood of small businesses because they can help grow a company exponentially. They will buy from your store time and again, which means you have more money to reinvest in yourself.
The best way to win at marketing is by being genuine, so make sure you always treat people right! Treating others how you would like to be treated will go much further than any other strategy on this list because it comes from the heart and is therefore much more genuine.
By using these strategies outlined above, you can ensure that your customers are happy and keep coming back for more!
One of the things that you can easily apply from what's mentioned above is reaching out to your repeat customers through SMS Marketing. Why don't you try it now? Sign up for a free 14-day trial here at WinBack and see your sales increase.
Topics: Best Practices, Customer Retention