The Nitty-Gritty of How SMS Marketing Works
How often do you find yourself struggling to set up an easy and cost-efficient way of marketing for your business? Have you ever wondered about SMS marketing? If you haven't yet, it's about time that you should. SMS marketing can be a game-changer for your business. That is not us who is saying so. Many research reports have proved that when it comes to marketing, SMS marketing takes the cake.
Before we cut to the chase, let's look at certain statistics that substantiate SMS marketing should be the go-to marketing.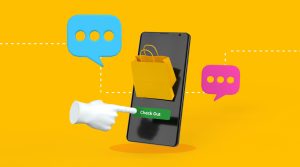 Based on GSMA real-time intelligence data, as of today, a whopping 67.03 percent of the world's population has a mobile device. Another study by Elite Content Marketer throws light on on-screen time spent by mobile users across different countries. It identifies that globally while most people check their phones 58 times a day, 60% of sessions are less than 2 minutes. 25% of sessions are two to ten minutes long, and 5% of sessions are longer than 10 minutes, which implies that an average time spent on the phone by a user is about 3 hours and 15 minutes per day.
It is also noteworthy that SMS is an inbuilt feature in every mobile phone and over 90 percent of mobile phone owners receive and read text messages, whether they own a smartphone or not. Based on a study conducted by Open Market – 77% of consumers have a positive perception of companies that use SMS. It also discloses that 64 percent of consumers prefer communication via SMS for customer service needs.
SMS marketing has a 45 percent response rate, which is way too high when compared to the response rate of email marketing which lies at 6 percent. SMS marketing also leads in terms of response rates. Pure 360 has reported that SMS offers get a response from 32 percent of recipients, and the coupons that are texted are redeemed ten times more often than conventional coupons.
By now, you must have got a fair idea about how powerful SMS marketing can be if executed well. So let's take a deep dive into how SMS Marketing works and how marketers make it impactful.
How does SMS marketing work?
As the name suggests, sending promotional campaigns for marketing via text messages is known as SMS marketing or text message marketing.
These permission-based texts or messages are typically sent from shortcodes as opposed to a phone number, and the code can be associated with one or more senders or a toll-free number. The first step of this process is seeking permission from your customers to send them texts. There are a few ways to invite your customers to join your SMS club.
The first one is by asking the people to send a keyword to a designated number or shortcode. In terms of SMS marketing, a keyword is an easy-to-remember combination of letters and numbers that people text to join your subscriber list.
In the above example, RICKS is the keyword, and 68398 is the shortcode.
Secondly, by requesting customers to fill out web forms or sign up pages on your website or paper forms in your brick-and-mortar outlet that capture their phone numbers and grant permission for further communications.
You can advertise your keyword everywhere possible, on your website, on your social media handles, in your stores, or even if you have an advertisement on a billboard. Make sure the keyword is easy to remember so that it captures as many eyes as possible.
Encourage your customers to fill out web forms or paper forms by offering them bonuses, discounts, or special offers. Ensure that your customers know that they are sharing their phone numbers with someone they can trust, and their privacy will not be hampered. Also, the customers are more likely to share their phone numbers if they are aware of the purpose of texts and the frequency of texts. Also, send the messages only during convenient hours; a midnight text will probably result in an angry customer.
The second and the last aspect of the process is what you send in those text messages or the content of these messages. These may be transactional, or they can be campaign messages. Transactional messages or one-to-one messages are typically meant for a single recipient providing real-time information such as an order confirmation or cancellation, appointment details, and much more. On the other hand, campaign messages or one-to-many messages usually communicate to the masses for promotions such as coupons, alerts or specials, or generic information like details of an event.
If you think you're running a Shopify store, read our Ultimate Guide to SMS Marketing.
SMS Marketing – Compliance with the Law
First and foremost, marketers must comply with the law. Asking for customer's consent before sending them messages on their phones either through paper or digital sign-up should be your first step when incorporating this strategy.
The law also requires that the customers must be made aware of any changes that might be applied to them when they join their SMS club or when they avail advantage of messages they receive for promotions. Do not hide any charges. Recipients should legally be given an option to opt-out and stop texts from businesses or marketers at any given point. This practice also helps build trust among your customer base.
Read our in-depth guide on SMS Marketing Compliance to make sure you are following the laws down to a T.
Features that enhance the efficacy of SMS marketing
The most attractive feature of SMS marketing is that it is instant. You can roll out campaign messages to hundreds and thousands of customers with a single click. As we previously discussed, over 90 percent of the time, these messages are opened within 3 to 5 minutes. Your customers are always aware of your short-term promotional campaigns. Even transactional messages like order confirmation, cancellation, or update can be real-time, offering a convenient and quick way of communication to both the sender and the receiver.
The fact that these messages can be tracked, allows you to measure which promotions are working and which ones aren't. It helps you make necessary changes to your promotional content in a timely fashion.
The response rate of this SMS marketing is reportedly more than 200 percent higher than marketing via email, Facebook, and other social media platforms.
SMS marketing is quite a cost-effective technique, especially when compared to the budget required for PR campaigns or tv ads or purchasing ad space on Instagram, Facebook, or other social media platforms.
How businesses have leveraged SMS marketing?
A 2020 E-commerce Marketing Statistics Report by Ominisend identifies that messages sent by e-commerce businesses increased by 378 percent from 2019 to 2020. Not only e-commerce businesses, but this form of marketing has been incorporated by businesses of all sizes across a myriad of industries, including but not limited to retail, banks and financial institutions, electronic media & press, restaurants & quick-serve, tech, and healthcare.
The internet is filled with stories by marketers who fully integrated SMS marketing into their strategy and observed significant growth in their businesses. The list of brands leveraging this marketing strategy is endless. CNN News, social media platforms like Facebook, JCPenney, Dominoes, Ikea, Target, Best Buy, and many many more send both transactional like order updates or appointment details and campaign messages like weather or news alerts, coupons, promotions, and much more to communicate with their respective customers.
Pizza Hut offered its customers free large pizza by texting FREEPIZZA to their shortcode. They advertised the keycode on social media with a limit of 100,000 free pizza codes. The campaign was successful in improving brand awareness. Not only Pizza Hut had to increase the limit to 160,000 opt-ins, but the codes were redeemed within 12 hours, even when the company had intended a 6-day ad buy.
Another instance, where Ford invited people to send the keycode to their shortcode resulted in a 15.4 percent conversion rate.
Best Practices
Avoid sending messages to your customers during inconvenient hours. It is best to send communications during business hours. It should also be noted that if customers initiate a conversation via text, they should be responded to promptly. You can respond to customers using an automated or a personal message.
Given the limit of 160 characters for a text message, it should be ensured that the message should be crisp and concise that conveys your intention, and leaves an impact.
There should be a balance between the frequency of text messages and consistent visibility. While you should be regular in sending texts to engage with your customers, going overboard and sending too many messages might irritate your customers, and they may end up opting out of your SMS club. Whether it's once per week or once per month, find the frequency that works best for your business.
Add a personal touch to messages by addressing the customer's name or sending a birthday or anniversary greeting. It has often been observed that personalization triggers sales conversions.
Typically, the texts are written in colloquial language, but it is strongly recommended that you use professional language to convey the messages from sellers to buyers. The language used in the messages should be aligned with your brand strategy.
Wrap up
Considering the quantifiable outcomes in the form of higher conversion rates, brand awareness, and satisfied customers, it is a no-brainer how a good SMS can boost your business. If you are an eCommerce business owner, you should definitely look into SMS marketing, as it can boost your sales. After all, SMS marketing is among the best form of marketing to reduce cart abandonment rates, the holy grail of the eCommerce businesses.
When it comes to SMS marketing, no one does it better than WinBack. Once you have signed up for Win Back's plans, you will see a considerable reduction in cart abandonment rates. In fact, Win Back's customers have recovered over 34% of their abandoned carts. Also, investing in WinBack's plans delivers ROI over 35X. What more could one ask from an SMS marketing service? If you would like to get in touch with the Win Back team to discuss this in detail, you can message them through the live chat option available on their website, or you can drop them an email. Remember, SMS marketing is the go-to marketing strategy that you should not ignore, neither today nor in the future.
Topics: SMS Marketing