Messenger vs. SMS vs. Email. Choosing the Right Marketing Channel for Your Shopify Store
Winback Team on May 13, 2021 11:29:40 AM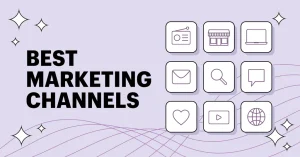 As we dive deeper in 2021, almost every business has either already gone digital or is about to do so. Facebook is one of the first options that come to mind when we hear digital marketing, but emails still stand tall as the highest ROI
churning channel at 4200%,which is pretty much unbeatable. At the same time, SMS is also one of the most useful ways to stay in touch with your customers despite the arrival of intent-based messaging apps like WhatsApp and WeChat.
So, where should you focus among the three as they can be used interchangeably? For a Shopify store owner, all three of them look equally necessary as they are compatible with the needs of the eCommerce industry. Today, we will perform an apple to apple comparison of all three and find out which one of them is the right marketing channel for you.
Let's understand all three of these marketing channels one by one and understand how they can benefit your Shopify store's marketing efforts:
Facebook Messenger Ads
Who in the world doesn't know about Facebook's impeccable marketing capabilities (pun intended!) The social media giant is known to provide exceptional targeting capabilities, which is also in line with the expectations of any Shopify store owner. When running an ad, you may narrow down your target audience to a mere five people in the city or roughly 75% of them. That's an unparalleled coupe for any platform, which makes it the blue-eyed boy for every marketer. All of us are aware of the Facebook marketplace and its extensive add options, but today we will talk about Facebook Messenger ads.
Ever since Facebook introduced Messenger ads that allowed businesses to send messages directly in the users' chat boxes, the seller capabilities have skyrocketed. The best part is that you can use chatbots to start conversations on behalf of your business and imitate everything that your salespeople would have done. The reason behind this approach working fantastically for all business types, including eCommerce, is that users perceive such messages just like the ones from their friends. The positioning in their DMs is the biggest success factor since it's the avenue where they interact with their friends and family. As a Shopify store, you can send promotional offers, run opinion polls, collect feedback, respond to queries, clear doubts regarding FAQs, and gather insights regarding your target customer base.
Running Facebook Messenger ads will require you to spend a decent amount on chatbot integration, devising and implementing the campaign. Many people find that such ads can be expensive, but that could be a completely false conclusion. Here's why: As a rule of thumb, any marketing activity should be analyzed in terms of the revenue it generates. Google Ads have an average CPC of $2.69, which is $1.72 for Facebook. But here, you also need to consider the fact that if used properly, you can generate a higher ROI/ROAS, which ultimately translates to a more cost-effective solution. Here's a comparison of both, which depicts the reason behind this rampant confusion:
(Image Credits), (Image Credits)
It will not be an overstatement if we say that Facebook is swiftly becoming the 'new Google' in terms of customer behavior. They are most likely to search for your brand on Facebook/Instagram, which happens to be their number one place for spending time, make purchase decisions and buy products from there itself. Thus, Facebook truly deserves to be a part of your Shopify store's marketing campaign.
SMS
Considered one of the most straightforward ways of communicating, SMS is a great way to market your products in a no-nonsense manner. The character limits make your copywriters pour in all their soul into making crisp texts that fit better into our diminishing attention spans. It doesn't need one to have an internet connection, let alone having a decent one or navigate through an app. After all, an average American checks their phones almost every 10 minutes.
Combining this with the fact that your target audience doesn't need to install any software application on their smartphone significantly boosts its utility. You can also benefit from the fact that it is not a mediated platform. Thus, SMS can be a great marketing tool as it provides you with an uninterrupted one-on-one communication channel with your target audience. Let us have a look at a few statistics that would help you understand what works in favor of SMS, particularly:
As you can see, it supports both transactional in marketing uses. You can serve the following purposes with the help of SMS:
Process password reset requests
Send auto-generated OTP for two-factor authentication
Send flash sale updates
Collect feedback
Send abandoned cart messages
Share shipping and delivery updates
Provide customer service
Send promotional messages
Share product availability details
This makes SMS an ideal choice for each stage of your marketing strategy, and it also happens to be among the most convenient channels in terms of technical de-sophistication.
However, you will need to use a bulk SMS service to every week send a large number of SMS as it will not be possible to do so using standard services. Also, the bulk SMS services allow you to automate the process, which helps you so your customers quickly and without making any human error. It is also recommended to integrate it with your CRM, or else you might lose on the conversation history database that is needed in a lot of cases. No doubts, responding manually to certain types of queries is a must, but automation is what keeps your business approachable and customer experience friendly.
Choosing the Right Marketing Channel: Unleash the Power of Email Marketing for Business Growth
If we had to describe email marketing in two words, it would surely be the 'dark horse' or the 'underdog.' It has managed to remain a favorite among all new digital marketing strategies that have emerged to date. The reason behind its enticing success lies in the fact that it also serves as your online identification. It is needed to authenticate your identity on various digital platforms, purchasing subscriptions and products, along with offline channels too requiring it. It makes your email account pretty similar to a website's URL.
Emails have the highest ROI, and they, too, fall under the category of the user-friendly, single-window communication channel. Also, the level of moderation is at a bare minimum which makes it attractive, but you'll still need to opt-in your recipients before reaching out to them. It is legally required to do so by legislation in different nations.
You will need to use an ESP tool for sending emails to your subscribers, and the good thing is that the degree of automation available today can truly resonate with your marketing plan. You can send messages for a lot of purposes that include but not limited to:
Welcome Emails
Onboarding
Upselling
Down Selling
Cross-Selling
Referrals
Feedback
Transactional Emails
Client Servicing
Product Updates
Shipping Updates
Change In Terms Of Use
Winback Email Series
Payment Reminders And A Lot More
It is, therefore, a 'jack of all trades' communication channel, which only adds to its preference for both marketers and its uses. Having said that, we would also like to add the fact that emails are considered legally binding proofs. This makes them the favorite channel for client servicing requests. People expect businesses to respond over emails and resolve their issues while keeping the email message history as a testimony to the evolving developments. On the other hand, 60% of the people are open to receive promotional messages on a weekly basis. Think of a better situation as a marketer!
As an online business, you should run email marketing campaigns as you are never going to interact with your customers in person, most likely. For instance, cart abandonment is the biggest challenge for every eCommerce business. Sending an abandoned cart email can work like a charm for your Shopify store since 40% of them are opened; out of those, 50% manage to fetch clicks, and out of them, 50% end up successfully closing the sale. Promotional emails on the other end from the bread and butter for innumerous Shopify stores. Essentially, emails fit every imaginable user case for eCommerce stores, and hence, it is a must-have for your marketing strategy.
Choosing the Right Marketing Channel: Messenger Vs SMS Vs Email – Where Does The Buck Stop for Optimal Engagement?
From the overview we got above, you might feel that all three of them are deserving candidates for your marketing strategy. Frankly speaking, you are right because your Shopify store will need all three of them. We would like to stress the point that the digital marketing landscape will be fruitful for you only if you learn how to use its different blocks in a synergy.
SMS services are integral to your marketing campaigns because they allow you to access your audience without any sort of mediation. Also, SMS services are pre-configured, and the person who doesn't use the internet will still be having a cellular connection. Naturally, you don't need to have your recipients in internet coverage for initiating communication.
Emails provide you with your subscribers' undivided attention, provided that they open your message. Neither will any competitor be able to fight for their attention, nor will they get distracted easily. Once you acquire those leads, there is virtually zero cost involved for retargeting/re-marketing except for your ESP subscription and creatives. Also, it's the highest revenue-generating marketing channel that's also dependent on any platform.
Facebook Messenger now also doubles as a chat platform for Instagram, giving you access to various user groups. It's the biggest social media network, and it's pretty cost-effective for the revenue potential it offers.
As an eCommerce store, you should use all three of them in a cascading manner to create a greater impact on your marketing initiatives. For instance, you can send a cart abandonment email followed by an SMS and message on Facebook to maximize the touchpoints. On the contrary, you can allow your customers to contact you on either of these mediums simultaneously to get their problems resolved. That can improve customer experience by leaps and bounds due to the flexibility and convenience availed.
You will need a centralized marketing platform, i.e., CRM software, to keep all three of them on the same page. This is essential to maintaining consistency as failing to do so will drastically lower customer experience and even work against your favor. We find that you must understand where each of these channels will fit into your marketing strategy and configure them to create an orchestrated impact. This will also require you to integrate your Shopify store with these marketing channels and the CRM, as you will need to facilitate bidirectional data flow between the store frontend and backend. It is a tricky aspect, and you might want to hire proper integration experts since the complexities are not limited to the technical portions- your business model will play a large role in its success.
Wrap Up
SMS, Emails, and Messenger Ads have overlapping utility, but each of them is focused on targeting an entirely different set of user expectations. Understanding the dynamics of how your Shopify store's customers use these channels can go a long way in giving your marketing strategy the desired results. But for perfect execution of these marketing strategies, you must rely on experts. Now, when it comes to experts at Shopify SMS setup, there's no one like Winback. A perfectly set up SMS service is a cure for abandoned cart issues.
Are you wondering about the cost? Well, our plans start at just $59, so it won't burn a hole in your pocket. Reach out to us today for a discussion on how Winback can help you win back the customers that have abandoned their carts on your Shopify store. Towards the end, we would like to conclude that it's not the "Messenger Vs. SMS Vs. Email" debate that will drive results for you, but "Messenger + SMS + Email" is the way forward.