Slay the Day! How The Slay Brand Used Winback To Get More Sales
Jairene Cruz-Eusebio on Jul 2, 2021 3:10:21 PM
Whatever industry your eCommerce businesses may be in, SMS marketing can boost your return traffic, sales, and ROI. Many people think that using SMS to get customers back to your site only works with a few business lines, but they cannot be more wrong.
Take, for instance, the apparel and fashion industry. With the appearance of social media networks, we tend to think that this is the only area where companies boost their presence. This article is here to provide evidence that not only can SMS marketing help in updating the customer about the status of their orders; it can also be a great way to update the customer of new products, exclusive discounts, and better offers to get them to come back!
At The Slay Brand, they understand the importance of mobile for both marketing and customer relationship management for their company.
SMS marketing is an important part of that strategy since it enables them to reach out to customers immediately. Through SMS, The Slay Brand can effectively send promos, newsletters, coupons, and even restock alerts to their customers through text messages.
They are constantly looking for better and innovative ways to bring back traffic and interest in the store. This is how Winback was identified as a unique medium that could be utilized effectively for this purpose.
We'll give a brief overview of how it works later on in this article but first, let us take a closer look at how this business came about.
The Company that is Out to Slay the Day
The Slay Brand is an online lifestyle clothing brand that designs stylish apparel for women for whatever occasion. The brand focuses on uplifting and connecting women entrepreneurs and fashionistas worldwide through fashion.
Whether you need casual clothing for doing regular everyday activities, or if you need a special outfit for your workout sessions, or if you need something for a business meeting or even a date, The Slay Brand's got you.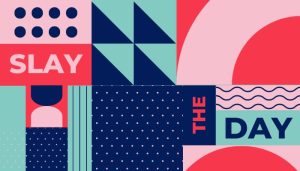 How It All Began
While the business was already performing well, the company knew that it can still improve. The Slay Brand owner Markesha Tillman was dissatisfied with email marketing. Even though she had more than 10,000 email subscribers, email campaigns were not producing the expected sales. Realizing the need to expand its marketing efforts, the company turned its eyes on the useful but almost unused tactic: SMS Marketing.
Seeking to improve sales on her already successful Shopify store, Markesha searched for an SMS plugin that would send texts to visitors and get them to come back to her site. That's when she discovered Winback.
There are several Shopify apps offering this service, but Markesha decided to install Winback due to the number of positive reviews and affordable pricing. Since installation, the plugin has performed exceptionally well.
"I started using Winback a year ago, and I really enjoy it," shared Markesha.
"I found that my audience is more receptive to text messages than they are to emails. Emails get overlooked when they hit someone's mailbox. They sit there unopened. But text messages are different. I don't know what it is, but people are more engaged when it comes to text messages."
The Slay Brand's experience with email marketing is not unheard of. Many businesses go through the same thing, so when it comes to email marketing versus SMS marketing for retail stores, SMS marketing easily comes out on top.
Boost Your Sales by Integrating and Using our Innovative App
According to Markesha, Winback is "super easy to use."
She simply downloaded Winback from the Shopify App Store and integrated it into her website automatically.
"I just entered my email address and created a password, and I was up and running," said Markesha. "Now I can create campaigns where I text things like promo codes to visitors, and that generates sales I wouldn't have otherwise gotten."
This means almost anyone with a Shopify store can use this SMS Marketing plugin, even if you manage the online store alone. Integrating Winback is quick, easy, and hassle-free. (Speaking of Shopify businesses, check out these Shopify stores featured in Shark Tank and find out which among them received an investment deal).
Through this type of marketing, The Slay Brand was able to send promos, newsletters, or coupons through text messages directly to customers who have subscribed via mobile phone numbers. Please read our Complete Guide to SMS Marketing to learn more about how this works.
The Results?
Winback has produced fantastic results for The Slay Brand.
"Having set up Winback all by myself, I'm amazed at the results," said Markesha.
"Just by looking at the Winback dashboard, I can see that about 60% of my orders have come in due to my use of the plugin. The dashboard is easy to read and shows me whether a visitor has responded to an SMS campaign that I sent out or that they responded to an abandoned cart text."
Markesha couldn't be happier with the results. Winback has boosted her revenue beyond expectations. She's now on track to double her revenue from the previous year, which means a 100% increase in sales since she started using our SMS marketing plugin.
Moving Forward: Propel your Sales to New Heights with Innovative Strategies
"After installing Winback, I admit that I looked at other SMS plugins and their price structures," said Markesha.
"But I'm sort of an old soul at heart. I believe that if it's not broken, don't fix it. So I chose to stay with Winback. And I'm not looking to change that."
"I definitely recommend Winback to any e-commerce brand," said Markesha.
"When it comes down to it, Winback is a powerful marketing tool that actually generates more revenue for your business. You will absolutely get the results you are looking for. And, it's very affordable."
Boost Sales: Get More Returning Customers with the WinBack Strategy
If there's a moral lesson to be learned from this case study, it's that no matter how many email subscribers you have, it won't matter if they don't come back to your website. So if you're looking for better customer engagement, why not try SMS marketing for yourself. You'll never know how many customers you'll win back unless you give it a try. Get your 14-day free trial for WinBacktoday!
We have successfully helped companies from other industries! Visit our Case Studies page to find out more.
Topics: Case Study